Summer is a perfect time for outdoor parties, barbecues, and enjoying delicious food with friends and family. If you're looking for a unique and tasty summer recipe idea to impress your guests, look no further than seal meat. Yes, you read that correctly—seal meat! In this article, we'll explore how you can incorporate this alternative protein into your summer menu.
Seal meat for summer                                             
Seal meat is a wonderful choice when it comes to making the perfect summer dish.  Here is why:
Light and refreshing:
During the hot summer months, we often crave light and refreshing dishes that won't load us too much. Seal meat, as lean meat, fits the need perfectly. It has a delicate texture and a slight gamey flavor that pairs well with a variety of summery ingredients like herbs and vegetables. Whether it's served as burgers, tataki, or on poutine, seal meat offers a great protein alternative.
Versatile Preparation:
Seal meat is versatile in terms of cooking methods and flavor variation. It can be grilled, braised, roasted, or even used in popular summer food – hotdog and poutine. This versatility allows chefs and home cooks to experiment with different marinades, seasonings, and cooking techniques to create unique and delicious recipes that suit their taste preferences.
Nutritious and Healthy:
As the temperatures rise and the sun shines brightly during summer, many of us experience fatigue and low energy. Luckily, incorporating seal meat into your summer meals can help combat this fatigue. Seal meat is an incredibly nutritious protein option. It is low in fat and high in protein, iron, zinc, magnesium, and vitamin B12. These nutrients are essential for maintaining energy and overall well-being, especially during the hot and active summer months.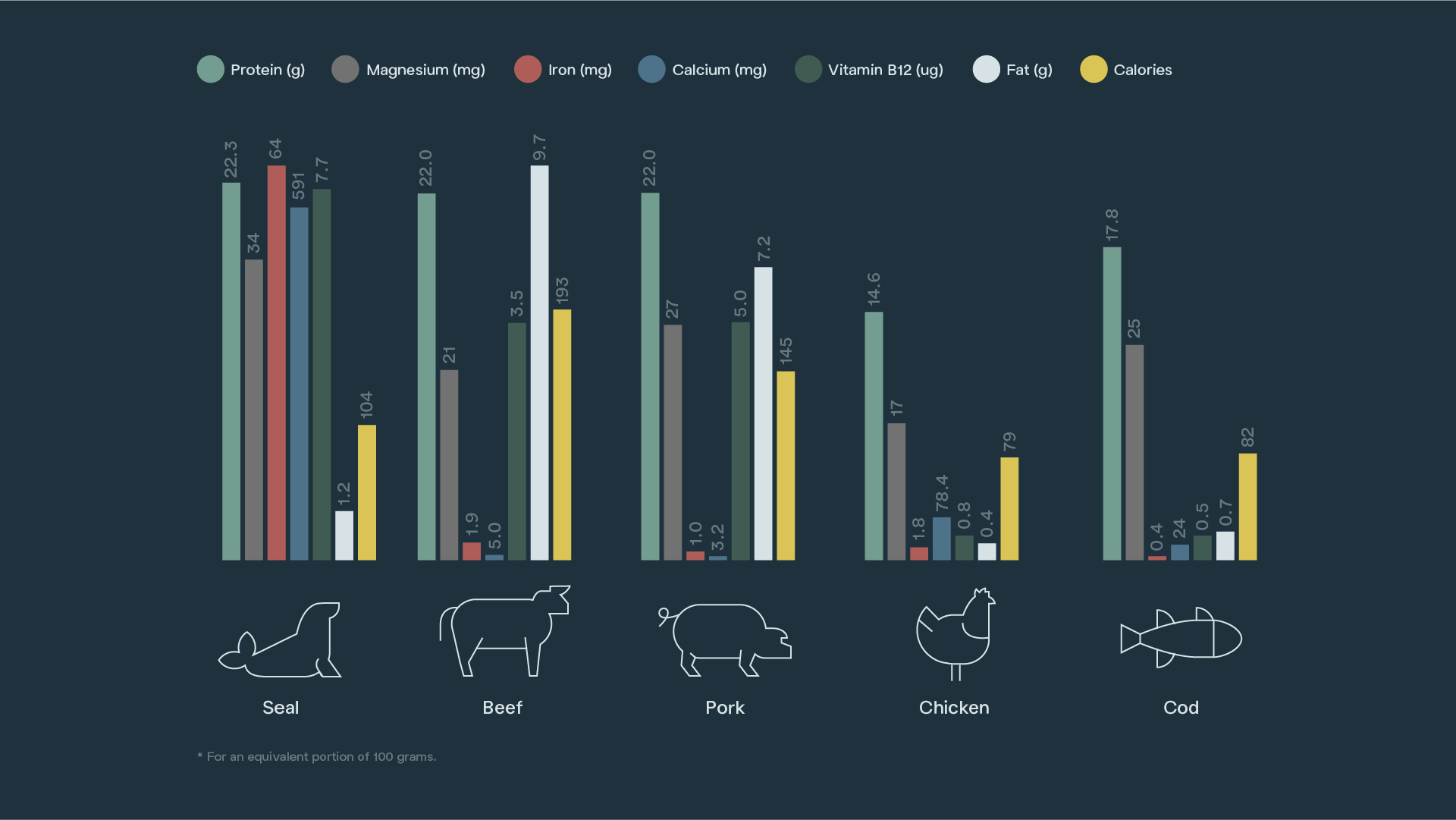 Learn more about nutrition fact of seal meat
Traditional Canadian country food:
Seal meat has a long history and cultural significance in Canada, particularly in Quebec. By featuring seal meat on your menu, you're celebrating and preserving this important aspect of Canadian culinary heritage. It's an opportunity to educate your guests about the cultural traditions that seal hunting represents. Seals are a valuable natural resource that provides income to between 5,000 and 6,000 individuals and their families in remote towns and villages at a time of year when few other economic opportunities exist. In Newfoundland and Labrador province, in 2019, the amount of seal licenses amounted to 3,493 commercial licenses and 1,573 personal use licenses.  In 2022, in Quebec province, the amount of seal licenses amounted to 812 commercial licenses and 468 personal use licenses.[1][2]
In Canada's north, where store-bought meat is expensive, a single seal can provide the equivalent of $200 or more worth of meat to a family—and a much higher level of nutrition.
Delicious seal meat recipes for summer
Now that you know why seal meat is a perfect meat alternative for summer, it is time to dive into some special recipes that will enrich your dining experience.
Seal Burger
Boucherie Côte-à-Côte  seal burger's patties are made of ground seal meat and about 35% of pork with spices. For people who can purchase Côte-à-Côte's products, here's a recipe using their seal meat patties:
Place the patties on the skillet and cook for 8 to 10 minutes, or until the internal temperature of the meat reaches 70°C (160°F).
Halfway through cooking, flip the patties to ensure even cooking on both sides.
While the patties are cooking, prepare the burger buns by toasting them lightly.
Once the patties are cooked, assemble the burgers by placing the cooked patties on the bottom half of the toasted buns.
Add your favorite classic burger toppings, such as lettuce, tomato, onion, and cheese.
Spread condiments like ketchup, mustard, and mayonnaise on the top half of the toasted buns.
Serve the seal meat burgers with crispy fries or salad as a side dish.
For those who want to do their patty from scratch and have access to ground seal meat, you can mix grounded seal meat together with pork meat to add fat (use between 35% to 50% pork meat mixed with grounded seal meat).  Seal meat is very lean so when you cook it as a burger patty, it's better to mix it with a meat that can add a little bit of fat such as pork.
If you want to try a seal burger during one of your summer road trips, Bistro Côté-Est in Kamouraska is totally worth the detour.  The "Bardot Seal Burger" topped with foie gras created quite a controversy when it was launched and remains a classic for the small Bistro.
Seal Loin Tataki
Seal loin tataki is a light and refreshing dish that would be ideal as a summer starter menu. To make a wonderful seal loin tataki, follow these steps:
Lightly season the seal loin with salt and ground pepper.
Heat a combination of butter and olive oil in a pan until it starts to shimmer.
Add the seal loin to the pan and sear it for 1 minute.
Flip the loin and add butter, a crushed garlic clove, and a sprig of thyme to the pan.
Spoon the butter foam over the loin and continue cooking for an additional 3 to 4 minutes, depending on your desired level of doneness.
Allow the cooked loin to rest for 2 to 3 minutes before slicing.
Serve the seal loin tataki as a main course, accompanied by your favorite side dishes. It's delicate flavors and tender texture will surely impress your guests.
What could be better than a summery Chimichurri sauce to accompany your seal tataki?  To prepare your Chimichurri, finely chop and mix the following ingredients and pour over your seal tataki:
1 cup of fresh parsley
½ cup of fresh oregano
½ cup fresh basil
1 head of garlic
1/3 cup shallot
½ cup evoo
¼ cup red wine vinegar
1 lime juice
1 tsp chili flakes
1 tsp sea salt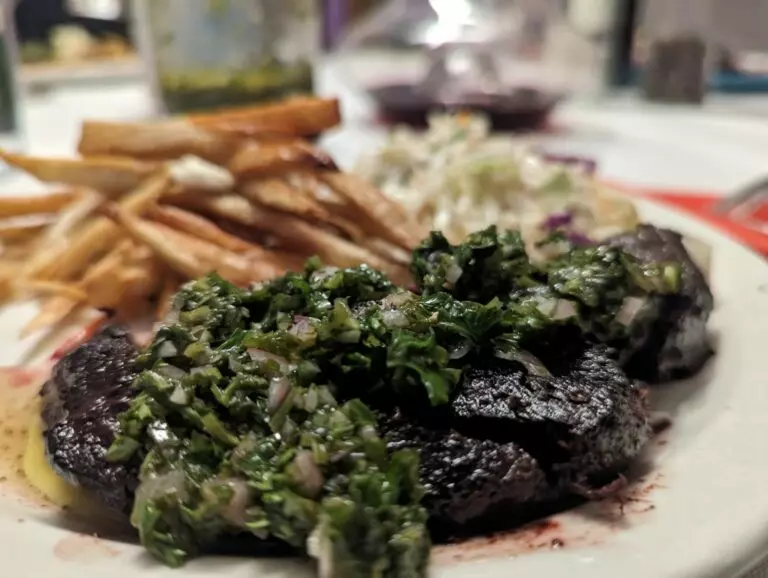 Recipe Credit: @t_rev_cooks on TikTok (Click here to see TikTok video)
Seal Gnocchi Poutine
For a unique innovation on Canadian classic food, try this seal gnocchi poutine recipe that combines the rich flavors of seal merguez, grain cheese, kale, marinated pearl onions, and veal stock. Here's how to prepare it:
Begin by making sweet potato gnocchi. Mix sweet potato puree, mashed potatoes, flour, egg, and salt in a bowl until well combined. Roll out the dough to a thickness of 2 cm and cut it into thumb-sized pieces. Freeze the gnocchi until ready to use.
Preheat your fryer to 350°F.
In a skillet, roast the seal merguez until cooked. Add kale to the skillet and sauté with the merguez.
Fry the sweet potato gnocchi until they rise to the surface. Drain and place them on a plate.
Assemble the poutine by placing the merguez, kale, marinated pearl onions, and grain cheese on top of the gnocchi.
Drizzle veal stock over the gnocchi poutine to bring all the flavors together.
Serve the seal gnocchi poutine as a hearty and flavorful main course. The combination of tender seal merguez, creamy cheese, and the rich taste of veal stock will leave you craving more.
These recipes offer a range of flavors and easy cooking techniques to showcase the versatility of seal meat. From the seal burger to the elegant seal loin tataki, and the unique twist on a classic with the seal gnocchi poutine, these dishes will surely impress your family and friends.
Where to order seal meat? 
If you are a restaurant or retailer in Quebec or Montreal, there are two easy ways to order seal meat from Boucherie Spécialisée Côte-à-Côte. Let's take a closer look at each option:
Boucherie Spécialisée Côte-à-Côte: A Trusted Supplier
When it comes to seal meat, Boucherie Spécialisée Côte-à-Côte is a renowned supplier in Quebec. They have a wide range of high-quality seal meat products that cater to both restaurants and retailers. With their commitment to sourcing the finest seal meat, Boucherie Spécialisée Côte-à-Côte ensures that you get the best flavors and textures in every seal meat products.
You can order directly from Boucherie Spécialisée Côte-à-Côte. In this case, the products will be delivered to CTMA warehouses in Quebec or Montreal. You can find the warehouse locations at https://ctmatransport.ca/en/warehouses/. It's worth noting that a frozen shipping fee will be applied to your purchase total. For an order to Brossard, for example, the frozen shipping cost from the Magdalen Islands to CTMA Brossard, Quebec is $53.77 + taxes.
Order through LA GAMME:
LA GAMME is a well-established non-profit regional development initiative that serves producers and processors in Gaspésie and the Magdalen Islands. They collaborate with Boucherie Spécialisée Côte à Côte to offer a delicious selection of seal meat products. You can place your order by visiting their website at https://lagammegaspesieiles.ca/ or by contacting them at 514-666-1730, ext. 1. You can also write an email to order.  commandes@lagammegaspesieiles.ca.  It's worth noting that if you buy from LA GAMME, they can only deliver to Montreal and Quebec City, and the order will be sent directly to you. Click here to see the different options offered by Boucherie Côte-à-côte including the ingredient list and cooking direction.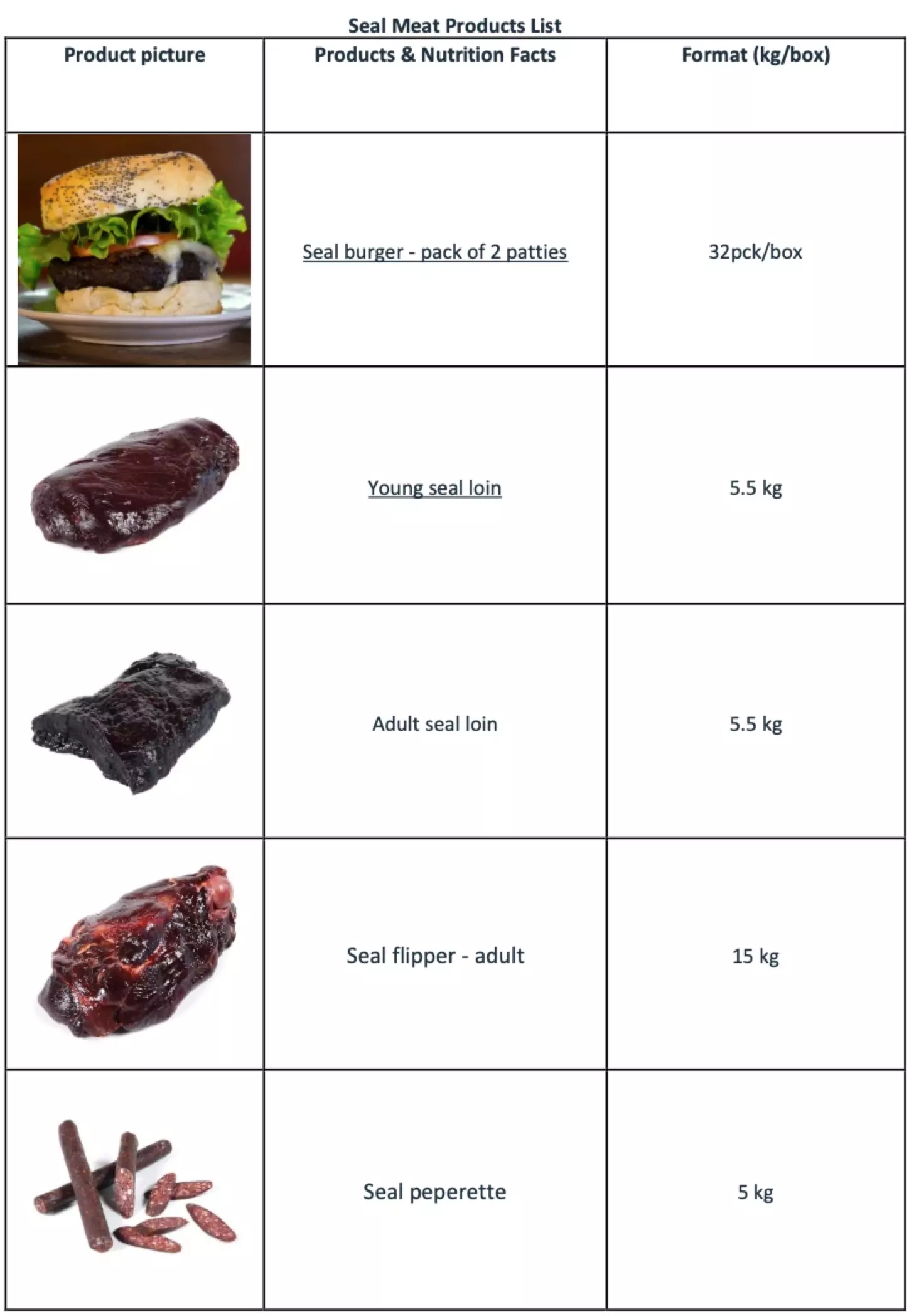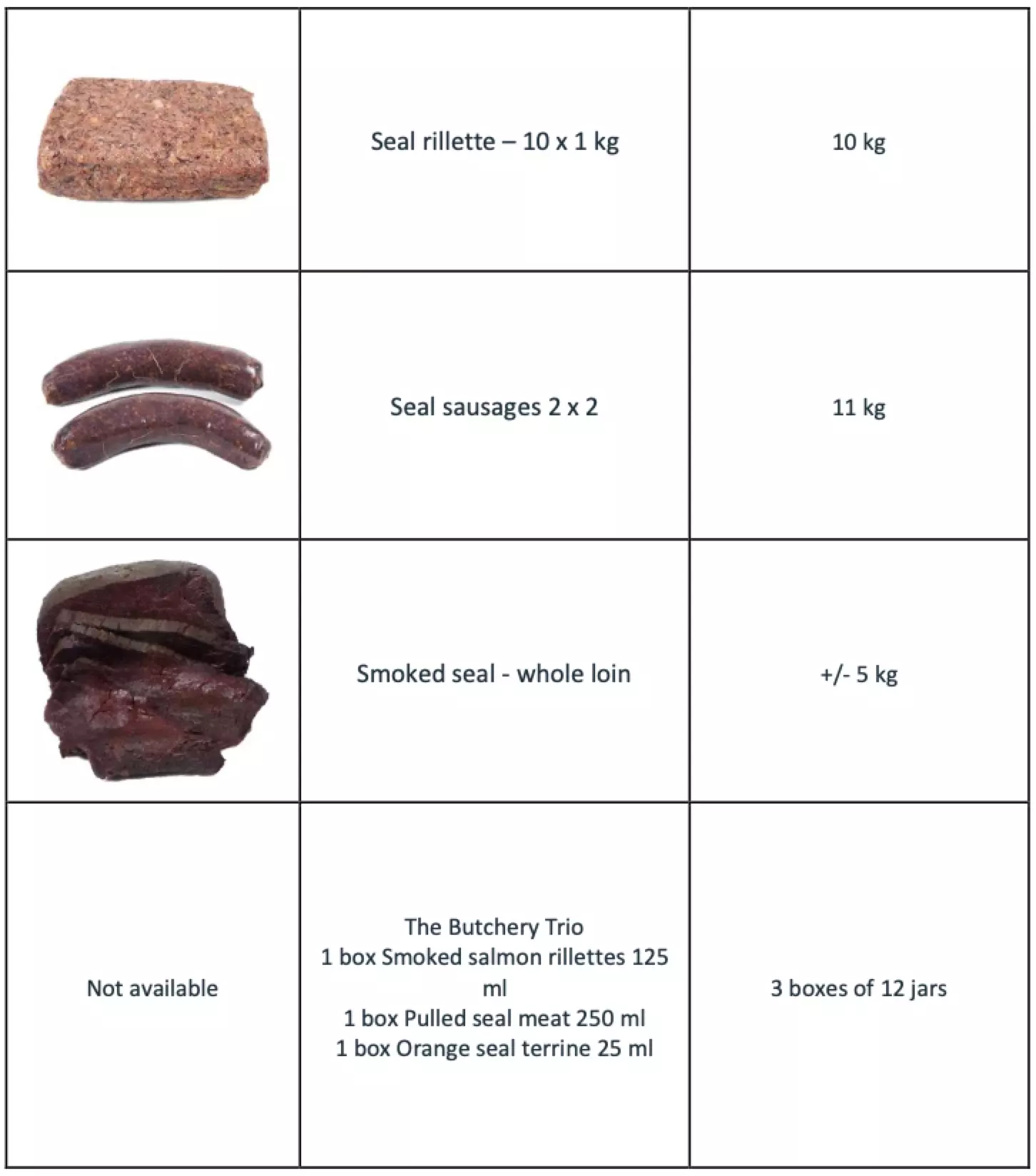 Nutrition fact list:
When it comes to seal meat prices, retail buyers should expect to pay between $74 and $80 per kilogram for seal loins. Defatted flippers, on the other hand, are cheaper, with costs ranging from $23 to $27 per kilogram. Prices may differ based on the different vendors and areas.  Their delivery services to Montreal and Quebec City guarantee that your products will be delivered directly to your store or restaurant.
Where to find seal meat products in Quebec and Montreal?
Here are some Quebec and Montreal retailers and restaurants that carry seal meat products from Boucherie Côte-à-Côte:
Retailers 
Quebec retailer: Le Poisson d'or
Quebec retailer: Poissonnerie St-Laurent
Quebec retailer: Délices de la mer Québec
Quebec retailer: Microbrasserie Le Presbytère (Seal Sausage with wild cranberries)
Quebec restaurant: Restaurant le Parlementaire
Quebec restaurant: Le Ciel
Montreal retailer: Metro Plus Beaulieu Ste-Julienne
Montreal retailer: Poissonnerie et restaurant Olynicks
For those who are in Montreal and want to try seal meat at a restaurant, you're lucky! Three of these restaurants currently have seal meat on their menu. But to ensure you don't miss out on your chance with disappointment, we highly recommend contacting these restaurants in advance before making your way there.
Restaurants: 
Choosing natural products like seal meat helps reduce your carbon footprint. It's sustainable food source that creates less impact on the environment compared to other high intensity farming methods. Harp seals and Grey seals are also part of the 41 species certified on the Smarter Seafood list. You can feel good knowing that the food you're eating won't damage other species living in our oceans.
As the summer season approaches, it's time to try new cuisines and add excitement to your culinary adventures. Seal meat is an excellent summer dish that combines flavor, tradition, and sustainability. So, seize the opportunity and introduce your family and friends to the unique delights of seal meat this summer. Your menu will be sure to stand out, and your guests will thank you for the memorable culinary experience.
[1] Deer Lake Regional Meeting Presentation, January 2020: Number of Seal License NL region.
[2] Regional seal advisory committee, Virtual meeting, October 28, 2022. Department of Fisheries and Oceans.