Tender Seal Ribs
Increases energy
Strengthens muscles
Promotes red blood cell formation
Boosts immune system
Repairs body tissues
Improves muscle function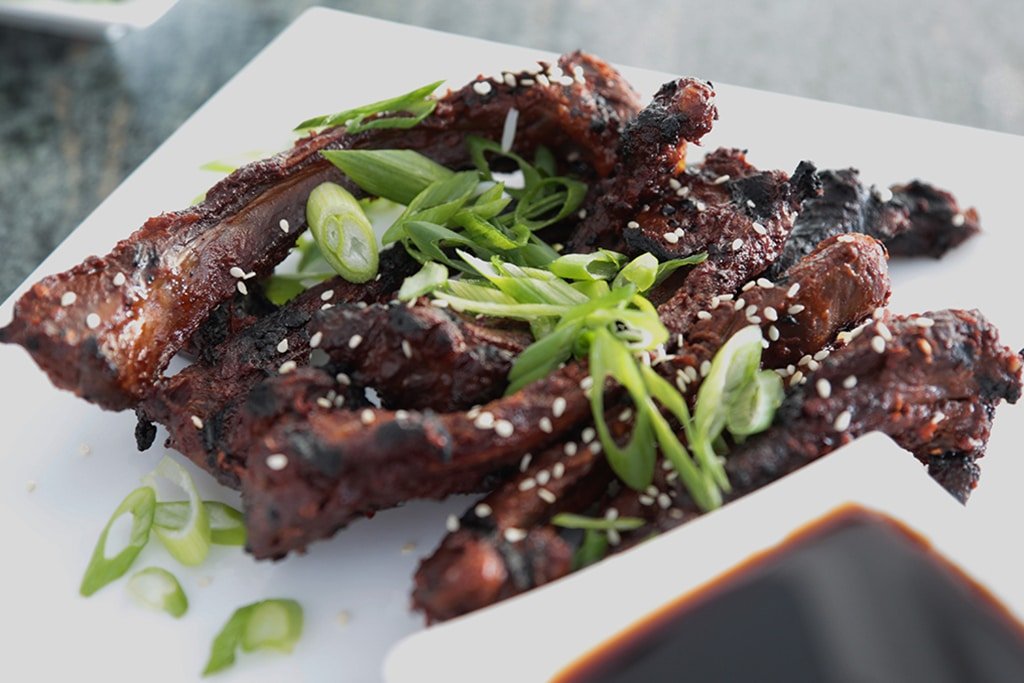 Increases energy
Strengthens muscles
Promotes red blood cell formation
Boosts immune system
Repairs body tissues
Improves muscle function
Ingredients
Marinade

Sesame Oil 65 g
Asian Pear, chopped 50 g
Soy Sauce 50 g
Rice Vinegar 40 g
Green Onion, sliced 15 g
Garlic, sliced 15 g
Ginger Root, grated 15 g
Fish Sauce 10 g
Korean Red Chili Paste (Gochujang) 8 g
Crushed Red Pepper Flakes 2 g
Black Peppercorns, crushed 0.5 g

Ribs
Instructions
METHOD:
Combine all ingredients for the marinade in a food processor and blend until smooth, approximately 40 seconds.
Cover the seal ribs with the marinade and refrigerate for 4 hours.
Preheat grill to high. For best results, ensure the grill is very hot.
Remove ribs from the marinade and scrape of any excess marinade.
Grill ribs for 2-3 minutes per side; remove from the grill and let rest for 1 minute.
GARNISH
Green onion, sliced as desired
White sesame seeds as desired
METHOD:
Garnish ribs with green onion and white sesame seeds.
Serve hot with your favourite Korean barbecue sauce
Features
100% Canadian Wild Game Meat
Certified Smarter Seafood
Excellent source of protein (23%) and low in fat (2%).
Very nutritious: high in iron, zinc, magnesium and vitamin B12.
All natural, wild game meat with no antibiotics or growth hormones.
Source: Chef Benoit Lenglet available on SeaDNA's website at https://www.seadna.ca/tender-seal-ribs/
Pure Omega-3 Oil
Seal oil is a complete source of Omega-3 (DPA + DHA + EPA) with optimized absorption given its mammalian molecular structure.
Wild Canadian Meat
Seal meat represents an excellent source of protein and is high in iron, zinc, magnesium and vitamin B-12. This wild game meat is free from antibiotics and added hormones.
Seal Meat
Seal Meat
Seal Meat
References