Seal tataki
Increases energy
Strengthens muscles
Promotes red blood cell formation
Boosts immune system
Repairs body tissues
Improves muscle function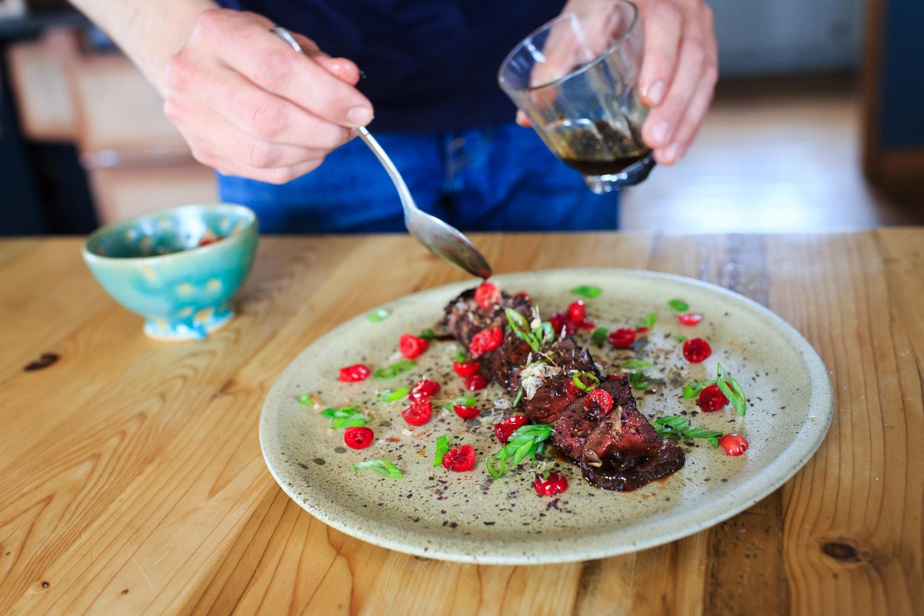 Increases energy
Strengthens muscles
Promotes red blood cell formation
Boosts immune system
Repairs body tissues
Improves muscle function
Ingredients
1 salted and peppered seal fillet
• 100 ml soy sauce (the chef recommends using the Kikkoman brand and avoiding the VH brand)
• The juice of a lime
• 1/2 tsp. sesame oil
• 1 C. sriracha sauce
• 1/4 cup frozen cranberries, sliced ​​on a mandolin, lightly dusted with sugar
• 1 C. seaweed flakes (the chef recommends the Saveurs de Forillon blend, marketed by Un ocean de saveurs)
• 1 bunch of chopped green onions
• 1 pinch of dried bonito flakes
• Canola oil (avoid butter or olive oil, which have a lower smoke point, recommends the chef)
Instructions
Preparation
1. Heat a skillet over medium to high heat with canola oil. Add the seal fillet just before the oil begins to smoke. Sear the meat, without touching it, until it peels off on its own from the bottom of the pan, then turn it to cook it on all sides. The chef recommends cooking the meat rare (he removes it when it has reached an internal temperature of around 53 ° C).
2. Let the meat rest for 5 to 10 minutes, then slice it against the grain into slices 1/2 to 1 cm thick. Spread out on a plate, add cranberries, green onions, vinaigrette and finish with seaweed and dried fish flakes. To serve.
Features
100% Canadian Wild Game Meat
Certified Smarter Seafood
Excellent source of protein (23%) and low in fat (2%).
Very nutritious: high in iron, zinc, magnesium and vitamin B12.
All natural, wild game meat with no antibiotics or growth hormones.
Source: https://www.lapresse.ca/gourmand/recettes/2019-07-13/la-revanche-du-loup-marin
Pure Omega-3 Oil
Seal oil is a complete source of Omega-3 (DPA + DHA + EPA) with optimized absorption given its mammalian molecular structure.
Wild Canadian Meat
Seal meat represents an excellent source of protein and is high in iron, zinc, magnesium and vitamin B-12. This wild game meat is free from antibiotics and added hormones.
Seal Meat
Seal Meat
Seal Meat
References