Seal steak with mustard and apple cream
Increases energy
Strengthens muscles
Promotes red blood cell formation
Boosts immune system
Repairs body tissues
Improves muscle function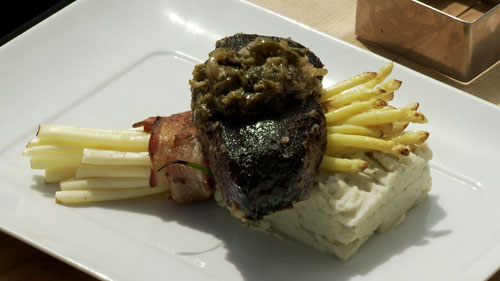 Increases energy
Strengthens muscles
Promotes red blood cell formation
Boosts immune system
Repairs body tissues
Improves muscle function
Ingredients
2 seal or seal
steaks Duck fat for cooking
2 tbsp. 1 tablespoon Dijon mustard
1 gray shallot, chopped
4 oz cream of apple (from Domaine Pinnacle, for example)
100 g canned seafood (specialty grocery stores)
Instructions
– Using a brush, brush the seal steaks with Dijon mustard.
– Cook the paving stones in a pan in a little duck fat, a few minutes on each side, add the chopped gray shallot and the sea bread and cook for 1 to 2 minutes.
– Deglaze with the apple cream.
– Serve with asparagus and mashed potatoes or Jerusalem artichokes.
Features
100% Canadian Wild Game Meat
Certified Smarter Seafood
Excellent source of protein (23%) and low in fat (2%).
Very nutritious: high in iron, zinc, magnesium and vitamin B12.
All natural, wild game meat with no antibiotics or growth hormones.
Source: http://recettes-de-chefs.ca/martin-gagne/pave-de-phoque-a-la-moutarde-et-creme-de-pommes/
Pure Omega-3 Oil
Seal oil is a complete source of Omega-3 (DPA + DHA + EPA) with optimized absorption given its mammalian molecular structure.
Wild Canadian Meat
Seal meat represents an excellent source of protein and is high in iron, zinc, magnesium and vitamin B-12. This wild game meat is free from antibiotics and added hormones.
Seal Meat
Seal Meat
Seal Meat
References