Marinated skewer with chimichurri sauce
Increases energy
Strengthens muscles
Promotes red blood cell formation
Boosts immune system
Repairs body tissues
Improves muscle function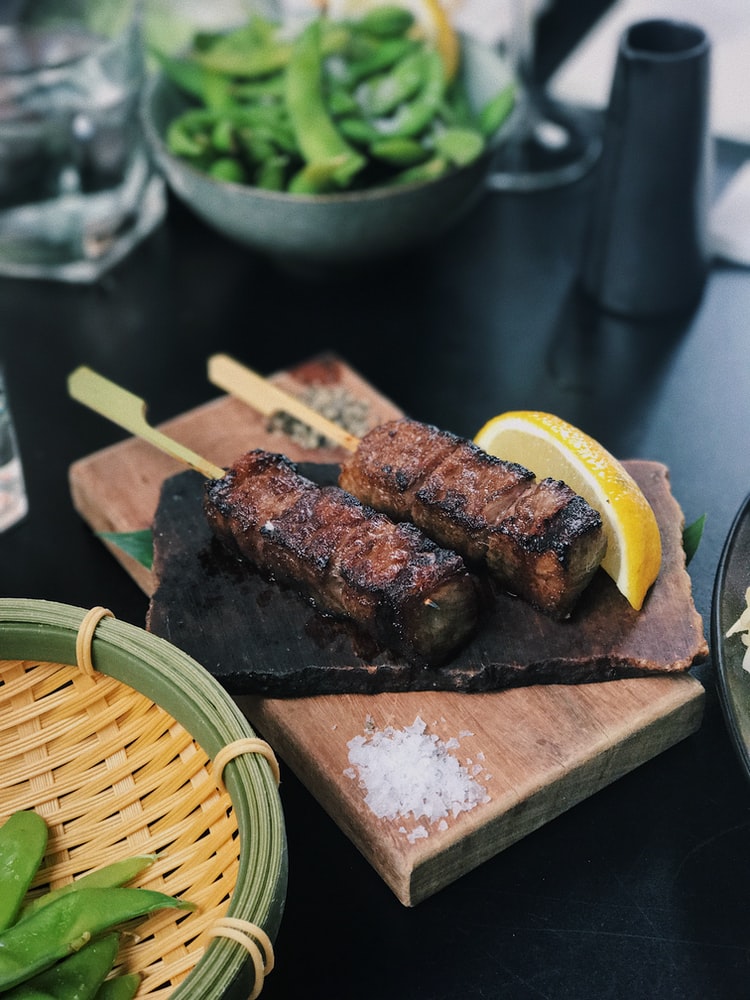 Increases energy
Strengthens muscles
Promotes red blood cell formation
Boosts immune system
Repairs body tissues
Improves muscle function
Ingredients
6 servings
Preparation time: 30 minutes 
Cooking time : 5 minutes

ingredients


1 Kg          Seal meat (loin, steak, or other suitable piece)

2 ml          Salt

125ml     

Fennel leaves or fresh dill

125 ml     

Fresh italian parsley leaves
60 ml        Fresh mint leaves
5 ml          Chopped garlic flower
2.5 ml       Salt
15 ml         Lemon juice
5 ml           Rice vinegar
125 ml       Vegetable oil
60 ml         Grilled hot peppers or sweet peppers, chopped
To taste   Salt and fresh pepper
Instructions
Cut the meat into thin slices.Salt the meat and set aside in the refrigerator.
Preheat the BBQ grill to medium-high (medium-high) 230 ° C (450 ° F).
Wash and dry all the herbs. Put all the herbs in a food processor and chop
finely in small strokes. Add Tail, salt, lemon juice and vinegar. Spin again
a few turns.Add the oil and the chili peppers and turn to turn for a few seconds. Reserve.
Place the thin slices of seal on mini wooden or bamboo skewers in
twisting the meat.Pour the sauce on the skewers and let marinate for an hour.Drain the skewers and cook them on the grill or in a pan over high heat for a few minutes or
bake for 5 minutes at 180 ° C (350 ° F). Serve topped with the herb sauce.
Serve with a fresh salad and grilled vegetables.
Features
100% Canadian Wild Game Meat
Certified Smarter Seafood
Excellent source of protein (23%) and low in fat (2%).
Very nutritious: high in iron, zinc, magnesium and vitamin B12.
All natural, wild game meat with no antibiotics or growth hormones.
Pure Omega-3 Oil
Seal oil is a complete source of Omega-3 (DPA + DHA + EPA) with optimized absorption given its mammalian molecular structure.
Wild Canadian Meat
Seal meat represents an excellent source of protein and is high in iron, zinc, magnesium and vitamin B-12. This wild game meat is free from antibiotics and added hormones.
Seal Meat
Seal Meat
Seal Meat
References