korean style fried seal meat
Increases energy
Strengthens muscles
Promotes red blood cell formation
Boosts immune system
Repairs body tissues
Improves muscle function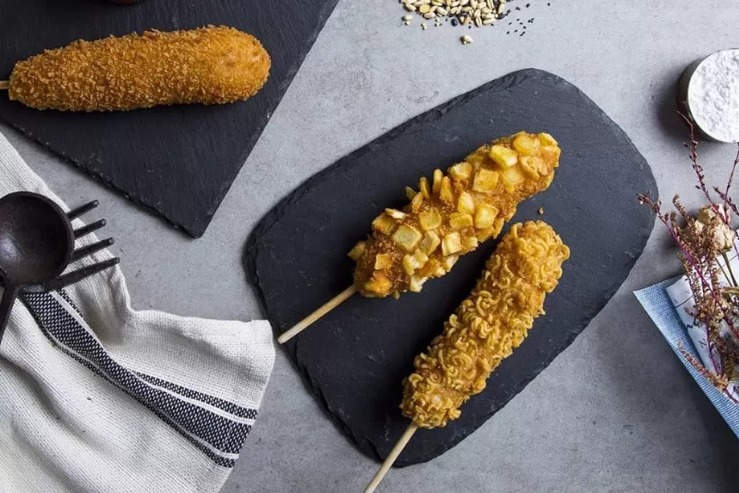 Increases energy
Strengthens muscles
Promotes red blood cell formation
Boosts immune system
Repairs body tissues
Improves muscle function
Ingredients
For 3 skewers
sauce:
1 little onion ends
4 cloves of garlic
30ml ginger
15ml kikkoman soy sauce
60ml mirin
15 ml sweet chili sauce
6oml ketchup
15 ml dried chili powder
30ml honey
15 ml sugar
5o ml water
Breadcrumbs
160 ml rice flour
80ml tapioca starch or cornstarch
wooden skewer
vegetable oil
Sesame seeds
Instructions
Preheat a fryer or cauldron with vegetable oil at 350 ° F
season the meat with salt, then spong the meat with a towel. thread meat under skewers, approximately 50 g per serving. pass the skewers through the breading, then fry them about 1.30 min in oil for medium-rare. do not overcook, as the meat will occur dry and hard.
take the skewers out of the oil and drain them with a paper towel
then brush the skewers with the previously heated sauce, sprinkle with sesame seeds and serve
Features
100% Canadian Wild Game Meat
Certified Smarter Seafood
Excellent source of protein (23%) and low in fat (2%).
Very nutritious: high in iron, zinc, magnesium and vitamin B12.
All natural, wild game meat with no antibiotics or growth hormones.
Pure Omega-3 Oil
Seal oil is a complete source of Omega-3 (DPA + DHA + EPA) with optimized absorption given its mammalian molecular structure.
Wild Canadian Meat
Seal meat represents an excellent source of protein and is high in iron, zinc, magnesium and vitamin B-12. This wild game meat is free from antibiotics and added hormones.
Seal Meat
Seal Meat
Seal Meat
References